about us
Shanxi Chenguang Technology Development Co., Ltd. was established in 1998. Its predecessor was Xi'an Chenguang HVAC Engineering Co., Ltd., which was registered by the Shanxi Provincial Bureau of Industry and Commerce and approved by the Shanxi Provincial Construction Department. We Have independent commercial and engineering construction enterprise legal person qualifications, HVAC professional (mechanical and electrical equipment installation) second-level construction qualifications, with professional maintenance engineers trained and qualified by the manufacturer.
Our services include sales and maintenance of household and commercial central air conditioners, ground (water) source heat pump air conditioners and other air conditioning equipment, design, construction of HVAC projects, professional maintenance and cleaning of central air conditioning, cleaning and disinfection services.
Our main business is positioned as a professional supporting service provider for real estate projects. It mainly provides supporting services such as HVAC and home appliances for high-end real estate: including (household) central air conditioning, central fresh air system, direct drinking water system, and integrated kitchen and bathroom system., Monitoring system, etc.
As a comprehensive professional service company in the HVAC industry, our company takes the concept of "limited products and unlimited services". Our business philosophy is to provide high-quality products, sophisticated construction, and perfect services. Integrity, pragmatic, group, development is the specific policies. Our company is positioned as a service company. Company's services break out of the concept of passive after-sales service and create a "comfortable" environment for users with a comprehensive service of pre-sale, on sale and after-sale. Our company has reasonable design schemes, sophisticated materials selection, strict construction technology, and comprehensive services to eliminate human failure to the greatest extent and greatly reduce the chance of malfunction of the equipment itself. It minimizes the malfunction and improves users' satisfaction rates.
Finish a project, build our brand, make friends, and achieve a good harvest of both social and economic benefits, that is, establish a good corporate image and user reputation, and ensure the long-term healthy development of the company.
After many years of hard work, our company has provided many projects for all fields, the company has been able to develop healthily, and has achieved remarkable results in the sales, installation and after-sales service of central air-conditioning equipment. We have created a sales and construction team with strict management, rich experience, excellent craftsmanship and strong technical force, and has established a sound service model and team. A strong sales and construction team has established a sound service model and team.
Agency Brand
Good quality products are the prerequisite for good project quality. Our company chooses top-quality brands from domestic and foreign brands as partners to ensure project quality; ensure the engineering quality from the equipment body. According to the brand pattern of central air-conditioning, we choose one domestic brand, one Japanese brand and one American brand as long-term partners.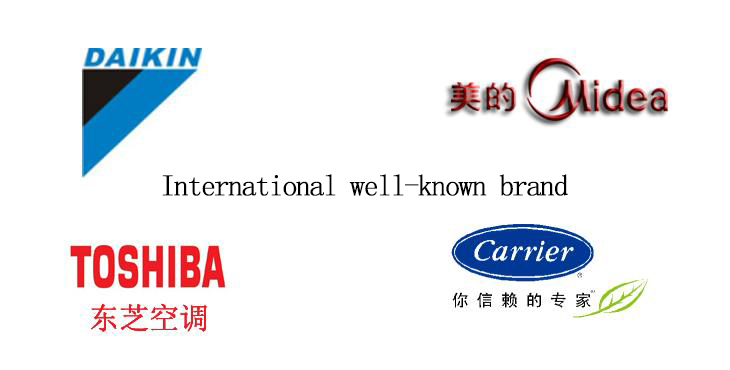 Representative Project Performance:

Our company has a central air-conditioning project with a total area of 1.2 million square meters. Representative projects are:
Real Estate Supporting Projects
Qujiang Mansion · Heyuan, Wangzao Modern Mansion, Wangzao International Mansion, Shanshui Caotang, Qujiang Mansion, Tangliao International, Jiatian International, China Railway Lock Building, Leading Times Square, Hesheng Jingguang Center, etc.
Government projects
Shanxi Province Hotel, Shanxi Provincial Communist Party School, Northwest Office of Guangdong Provincial Government, Yan'an Finance Bureau, etc.
Other projects
Xi'an Jiaotong University, Fourth Military Medical University, Xi'an University of Science and Technology, Xi'an University of Architecture and Technology, Xi'an New City Theater, Pucheng Grand Theater, Auditorium of Armed Police Academy, Armament Experimental Base Auditorium, China Aviation Industry Institute 631, China Flight Test Research Institute Xi'an Aircraft Industry Corporation, Yan'an Erdao Street Reconstruction, Wugong County Electric Power Bureau, Xifei Naval Guest House, Agricultural Bank of China, Xi'an Dayan Pagoda Cultural Relics Management Office, etc.
"Complete company management organization, close teamwork" is our driving force.
"Reasonable design plan, precise and detailed budget" is our design principle.
"Quality products, excellent construction; everything is for the user, everything is to create a high-quality project" is our construction standard.
"Superb technology, fast and perfect after-sales service" to provide users with assured engineering is our goal.
"Integrity, pragmatism, innovation" is our corporate spirit, and "providing customers with assured engineering" is our constantly pursuing philosophy.
We look forward to cooperating with you sincerely to create a perfect and comfortable living and working environment for you.